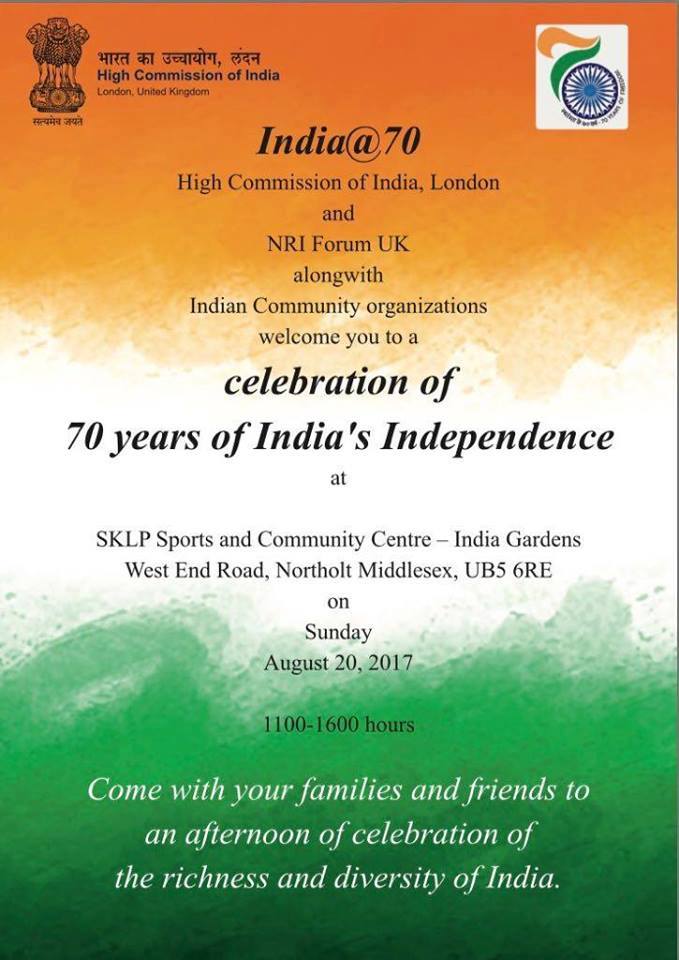 # Thousands Attended this loads of FREE Indian Food Stalls Celebration Last Year - Supported by CoolIndianApps.com, IndiansInUK.net (App & Web), NRIsWorldwide.net, BollywoodInLondon.com, AsiansInUK.com, BengalisInUK.net and many more community Portals & Organisations. #Connect with who is going at https://www.facebook.com/events/270103563467596/
~~~~~~~~~~~~~~~~~~~~~~~~~~
Sponsored Advertisement: Checkout some really cool apps from CoolIndianApps.com to make you smile and help you find interesting & like minded people to meet. Download some hugely Popular NRI Apps from here
1) NRI Singles - #1 for NRI matchmaking, Shaadi and Love, Popular with Girls, 1 Month free for Girls 
2) Desi Singles -  thousands of Desi Singles across the World, Popular with Girls, 1 Month Free for Girls
3) Art Of Living Matrimonial - Connect with Art of Living follower singles for friendship, matrimonial or matchmaking
4) NRIsConnect - Find NRI community & Events near you. Join discussion threads & social groups, browse & post adverts
5) AsiansInUK App - thousands of single Indian-Asian Professionals in UK, Popular with Girls, 1 month FREE for Girls 
6) DesiFlatMates App - find and meet @desiflatmates and @desiflatshares across the World
7) 365lovebumps App - Best Valentine/Anniversary Gift ever - 365 "love you" quotes will be delivered - one per day
8) Motivate2Win App - It can change your destiny, really
9) Motivate2Gym App - Get fit look sexy
~~~~ Sponsored Content ends here ~~~~
HCI London is organising 70 years of India's Independence Day celebration on 20th Aug 2017. Also https://youtu.be/mdWWrrGzwb0 -  20+ Popular Indian Apps & Websites Offering Free 1 Month Membership to Celebrate 70 Yrs of India's Independence - A Global Campaign by CoolIndianApps.com and NRIsConnect.com App. This is an open event for the Indian Diaspora/ NRIs/ Friends of India and all members of IndiansInUK.net App as well as facebook groups mentioned here superhitindianapps.com/online-indian-hubs
***Program Details***
• High Commissioner of India to the UK unfurling the Indian National flag
• National Anthem
• Cultural performances
• Kite Flying
• Tug of war --- come on let's do this !!!!
• Children games/contest
• A grand raffle with attractive prizes
• Heena/face painting
• Bouncy castle 
• Free Food… yes food (vegetarian) stalls will be there with a variety of Indian food representing different regions of India.
The celebration will also include cultural programmes and a raffle draw with attractive prizes.
Please support the event by sharing it with friends & family.